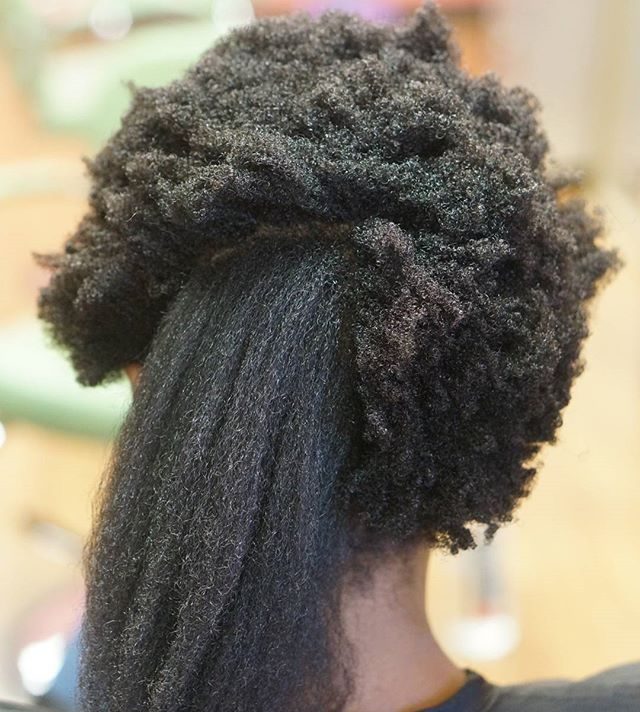 Let's talk texture! Allow our TEXTURE TEAM to enlighten you. During this session, an assessment on your crown (hair and scalp) is performed. The porosity/ density of your hair is determined in order to successfully organize an effective hair regimen. we make sure Product knowledge, styling suggestions, and answers to all your questions are acquired before you walk out the door. You will be equipped with the information needed to live your BEST natural life.
Required for all color services.
*Walk-in service only Tuesday – thursday
Is your hair lacking protein? Are you experiencing excessive shedding or breakage? Suffering from color, heat, or chemical damage? Add a protein treatment to your service.
Think of a steam treatment as hair spa! Our naturals LOVE it. The hot steam swells your hair cuticle so that the conditioners, oils, and ingredients penetrate deeper into the shaft. eliminating shedding, helping improve dry scalp, defining curl definition and much more.
Add on services only. Cannot be booked alone.
Flawless flat twist set and takedown to create a beautiful voluminous look
You GLO girl! The ultimate curl defining experience. Our team of skilled artists will help you discover and enhance your true texture.
Our renowned signature blowout will leave your tresses bouncing and behaving! This package includes a cleanse, deep condition, straighten, and trim. Here, we take texture seriously so we are on top of maintaining your curl integrity, taking all necessary measures to protect and prevent heat damage. Curls bounce back like they never left.
blowout
lower back /waist length
Braiding your crown in a detailed updo style. offering a wide range of designs and creations
Twisting your crown in a detailed updo style. offering a wide range of designs and
creations
$115+(Feed in Technique +$50)
beautiful protective styles that can last 8-10 weeks. (Hair not included)
Traditional (Natural leave-out)
sew in
This style doubles as a twist-out. You can wear your single twist as long as 6 weeks. Then take them down and enjoy the flawless definition
All styles include a shampoo + deep conditioning.
What we mean when we say CURLS RULE EVERYTHING AROUND ME
Whether starting your loc journey, picking it out, or just wearing the coils….this look is great for any occasion
Whether called Bantu knots, Zulu knots, or China bumps, this non heat- protective style is perfect for stretching the hair or simply wearing out. This one is definitely a conversation starter
Locs are our antennas to the universe. It is important that we keep them groomed and kept to maintain that connection.
Allow us to birth your journey. Laying the foundation for a beautiful commitment. Using coils, plaits, or the 2 strand methods
maintenance
loc nurturing
Palm roll method (deep cleanse included)
Is not included in maintenance, basic updo creation. * ADD ON ONLY
maintenance
pipe cleaners
Locs are set with pipe cleaners for a tight Curly finish.
Locs are 2 strand twisted after retwist. **ADD ON ONLY
cleanse +
deep conditioner + blow + trim
This is considered routine maintenance. Suggested for clients going into long lasting protective styles
Hair must be CLEAN and free of ANY product. Please inform your stylist if you prefer no heat.
$45 (Hair must be clean & stretched)
SHAPE SHIFTING! This service is for the curly girl who wishes to wear her hair out in it's natural state. Who needs it whipped into shape! Curls are always defined and cut dry.
Note: this cut is NOT an even cut. It is cut according to where your curls live and how they fall.
please read the description before booking
Jazz up those big chops, low cuts, or fades using clippers.
All conditions and pricing for permanent hair color is  determined at your color consultation.
"Ambiance simply amazing artwrork very relaxing. My hair is gorgeous and definitely will be coming back and referring others!!! "
"My husband's hair turned out really nice. He was pleased with it, as was I. Mind you, before he went in he hadn't had his locs retested in almost a year. The way she transformed his hair you would've never been able to tell. She also gave his locs TLC and repaired them along the way. Professional and impeccable."
"Love. Love. Loveeee my hair. My natural hair has never felt this good. I left the salon feeling like a totally different woman. I love the vibes of the salon. I felt so empowered and encouraged to continue my natural journey. 
We take walk-ins
visit today